The product offered by our company is cold-rolled square twisted bar or of other, specialized section as required by customers.
The dimensions of cold-rolled bars amount from Ø 4.7 mm do Ø 7.7 mm.
When ordered, we can also produce textured, grooved twisted or other bars.
Another product of our company is the bar made of carbon steel, cold-drawn, round or other, specialised as required by our customers.
We produce round bar of dimensions from Ø 3 mm to Ø 8 mm.
We offer our products in coils of 2000 kg or straightened and cut into sections of 2 meters length.
We also offer wire drawing from the material entrusted by the customers. When requested, we also offer transport services in the territory of Poland.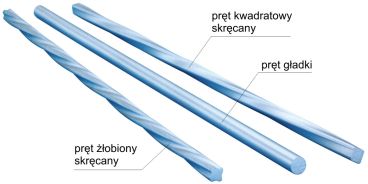 We produce grooved twisted bar of a square section for the needs of the gratings producers.
We produce two basic dimensions:
Dimension of the bar diagonal – 5.1 mm weight 125 g/m
Our product is made of material suitable for hot galvanizing.
Our experience and care for the highest quality of the material produced guarantee the satisfaction of our customers.